Largest ocean theme park operator in China
Haichang Ocean Park Holdings Ltd. is a leading ocean park developer, commercial supporting property developer and operator. It boasts six ocean theme parks respectively located in Dalian, Qingdao, Chongqing, Chengdu, Tianjin, Wuhan and Yantai, two comprehensive amusement parks that have received a total of 110 million visitors, and three large-scale theme-park complexes under construction (Shanghai Haichang Ocean Park, Sanya Haichang Fantasy Town and Zhengzhou Haichang Ocean Park).
 
On Mar.13, 2014, Haichang Ocean Park Holdings Ltd. was successfully listed as the first theme park operator in Hong Kong Stock Exchange. Adhering to its brand image of"brave innovation, optimism and good faith"and its pursuit of"dream, love,joy", Haichang will continue to offer one-stop international-class service in sightseeing, catering, shopping and accommodation.

The development history of Haichang Ocean Park

Corporate culture
To personify an enterprise,
You may see through the history of Haichang
That a Sea Explorer is appearing vividly,
A wise and exuberant man,
Young but not puerile, steady but not sophisticated,
Never yielding to shackle but always sticking to his dream,
With courage, intelligence and patience to challenge himself.
Facing the tide of this new era
This young man of Haichang is setting sail in the sea
on which the sun is shining brilliantly
……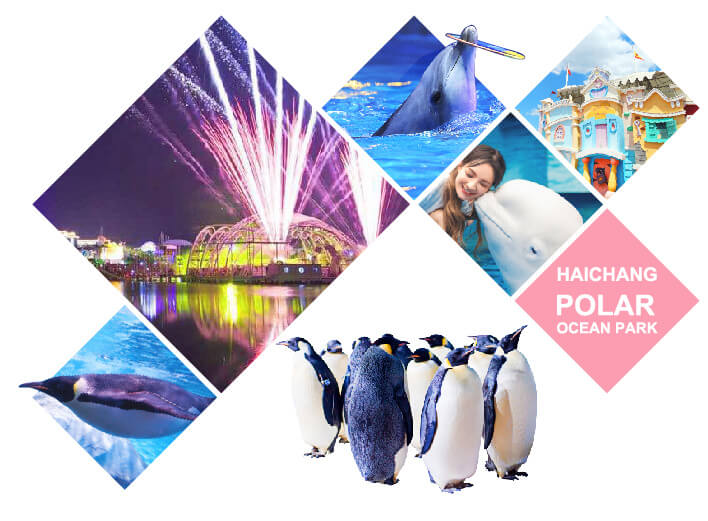 Forging the No. 1 Ocean Culture and Travelling Entertainment Brand in China
Building a Travelling Entertainment Platform Featured International Ocean Culture

| Awards | Award by |
| --- | --- |
| The Educational Base for Polar Science | by Chinese Arctic and Antarctic Administration |
| The Honorary Title of National Youth Civilization | by the Communist Youth League of the CPC Central Committee |
| The National Base for Science Education | by China Association for Science and Technology |
| The Green Ambassador of Earth Hour | by China Earth Hour Committee |
| The National Education Base for Wildlife Protection | by China Wildlife Conservation Association |
| The Research Base for CAS Institute of Hydrobiology | by CAS Institute of Hydrobiology |
| National Culture Industry Base | by the Ministry of Culture |
| National AAAAA Tourist Attraction | by National Tourist Attraction Quality Rating and Assessment Committee |
| National AAAA Tourist Attraction | by National Tourist Attraction Quality Rating and Assessment Committee |
| The Science Education Base of Sichuan | by Sichuan Provincial Department of Science and Technology, Sichuan Provincial Publicity Department and Sichuan Provincial Science and Technology Association |
| The Best CEO in Investor Relations | by Hong Kong Investor Relations Association |
| Outstanding Contribution Award (Pegasus Award) of China Tourism Industry | by National Tourism Administration |
| The Theme Park Innovation Award under China Leisure Innovation Award | by National Leisure Standardization Technical Committee |
| The Most Popular Ocean Theme Park | by Shanghai World Expo |
| Public Communication Award | by China Charity Festival, in 2015 |
| Responsible Brand Award | by China Charity Festival, in 2015 |
| China Advertising Award • Great Wall Award [Innovative Brand and Individual of the Year] | by China Advertising Association in 2016 and 2017 |
| China Advertising Award • Great Wall Award [Brand of the Year] | by China Advertising Association in 2016 and 2017 |
| Scenic-Spot Creative Marketing Award | by Sina "Golden Footprint" Tourism Forum Summit, in 2016 |
| The Silver Award of IAI Golden Footprint International Tourism Marketing | by Sina "Golden Footprint" Tourism Forum Summit |
| In addition, Haichang Ocean Park was awarded some prizes. | |