At present, the enterprise has more than 700 marine and polar animals of more than 30 species as well as more than 60,000 fishes, corals, jellyfishes and other animals, including approximately 500 large sharks in more than 10 species, such as the whale shark, sand tiger shark, and hammerhead shark.

Haichang Ocean Park is the leader of comprehensive ability in feeding, conservation and medical care of oceans and polar animals in China, we have the largest marine animal population in China, biology retaining amount is nearly 60,000, including 6 types of penguin such as emperor penguin, 5 types of sea dog, 4 types of sea lion, 3 types of dolphin, and white whale, flase-killer whale, walruses, and polar bears, and other large sea animals, more than 10 kinds of large sharks, such as whale sharks, the billhead sharks, hammerhead sharks and so on.
The company has more than 15 years of experience in animal conservation, with perfect biological management system, has a professional animal care team consists of more than 1000 people, most of whom have years of nursing experience. We have formulated a set of perfect system and working procedures for animal conservation. We have established the individual files for animals, and carry out data analysis on a regular basis, to reflect the trend and find problems early. We will monitor the whole feeding process including fodder purchase, inspection, storage to feed processing and feeding. We formulate disease prevention measures for animal in detail, and continue to increase input in improving veterinary medical technology and medical facilities. We provide a comfortable living space for animals and high quality life support system to simulate the natural environment, provide an appropriate collocation of population and gender, and we have a professional technical team to be in charge of rich research practice of animal nutrition, health care and nursing, environment and behavior.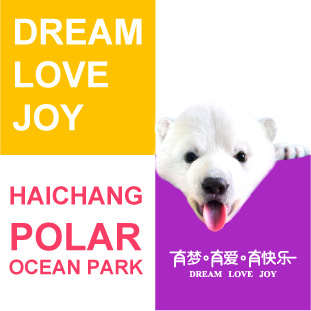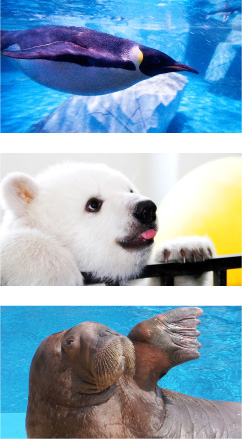 Our aim is to advocate the establishment of friendly and harmonious relations between human beings and nature, to support animal-related environmental protection initiatives and to practice the animal friendly principles of our own. By offering visitors a short range of animal interactive programs, science popularization education shows and innovative performances, their awareness on environmental protection and biological conservation are greatly improved. At the same time, we share our professional knowledge and experience, actively participate in biological conservation and study activities to conserve the diversity of organism and to promote the sustainable development of the environment. In addition, we have carried out a wide range of biological breeding plans. We have established breeding centers for cetaceans, pinnipeds and penguins and set up an artificial feeding center for polar bear infants. Over the past decade, we have successful reproduced more than 20 species of over 600 large, rare polar marine animals, ranking the first in the variety and quantity of reproduction domestically and taking a lead place internationally, including polar bears, emperor penguins, rockhopper penguins, false killer whales and grey seals that firstly reproduced and survived under artificial feeding conditions domestically.
We have established an animal conservation partnership with many well-known research units and aquarium institutions, including signing a strategic cooperation agreement with Reunion Entertainment Park Group in Spain, Berlin Zoo in Germany, Hong Kong Ocean Park and Hualien Farglory Ocean Park in Taiwan , and continued to strengthen the relations of mutual cooperation and support with Chinese Academy of Sciences(CAS) and other scientific research institutions. We have also maintained a close contact with foreign aquariums and marine theme parks, including San Diego Sea World in USA, Barcelona Aquarium in Spain, and Shirahama Adventure World in Japan.
On October 28, 2011, we, on behalf of the Ministry of Agriculture of the People's Republic of China presented three artificially bred spotted seals as a gift to HongKong Ocean Park, which was regarded as a milestone in the field of aquatic wildlife conservation cooperation and exchange between Mainland China and Hong Kong. It not only fully demonstrates our strength in the breeding and transportation of marine animals, but also actively promotes the cooperation between Mainland China and Hong Kong on the conservation of marine animals. We have also set up a serial of species exchange programs with various animal conservation institutions at home and aboard, and worked together to protect the diversity of marine organism genes and to establish a sound marine organism breeding system. We have established a special animal research institute and planned to set up an animal conservation fund to support the implementation of much more animal conservation programs.
In term of scientific research, we are equipped with various advanced devices for scientifc research and professional researchers to conduct research on marine animal health, behavior, heredity, nutrition, pharmacology and reproduction. We have also carried out joint school projects,vatiamin nutrition additives for polar marine animals R&D programs, China raised and endagered whales research projects and marine mammals conservation and bionic application research with many scientific research institutions like colleges and universities and CAS. More than a hundred of reserch findings has been published in core journals at home and aboard, including The Survey of Recent and Past of Aquarium Catacea Species Cultivation Records in China, Dolphine Sonar Signal Pulse Decomposition and Feature Analysis, Spotted Seal Manual Treatment and Migration Route Study, The Application of Chinese Herbal Medicine on Marine Mammals, The Implementation of Conservation Activities for Polor Bears under Artificial Breeding Conditions, The Integration of Tursiops Truncatus and Lagenorhynchus Obliquidens in Breeding and Training, From An Ugly Duckling to A White Swan: The Story of Emperor Penguin Penna, The Reproduction of South American Sea Lions Under Artificial Rearing Conditions, The Reproduction of Emperor Penguins Under Artificial Feeding Conditions, The Reproduction of Enhydra Lutrises Under Artificial Rearing Conditions, etc.

Haichang Ocean Park has established its dominant position in domestic and even international tourism industry with its huge animal population, differentiated designed tourism products and the operation ability of animal show scenic spots that are characterized by interactive experiences.

We have a senior management team with more than 10 years of rich experience in development and operation.
We have cooperated with many leading research units and institutions, including signing a strategic cooperation agreement with a large number of operators of well-known international theme parks, zoos and aquariums such as Reunion Entertainment Park Group in Spain, Berlin Zoo in Germany, Hong Kong Ocean Park and Hualien Farglory Ocean Park in Taiwan , and continued to enhance the relations of mutual cooperation and support with Chinese Academy of Sciences(CAS) and other scientific research institutions.Maintain close contact with overseas aquariums and ocean theme parks, including the SeaWorld in San Diego, the Aquarium in Barcelona, Spain, the World of Adventures in White Hamma, Japan, and so on.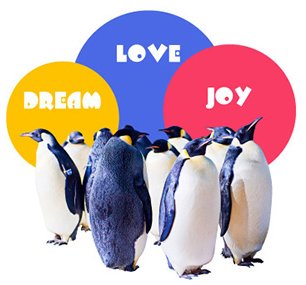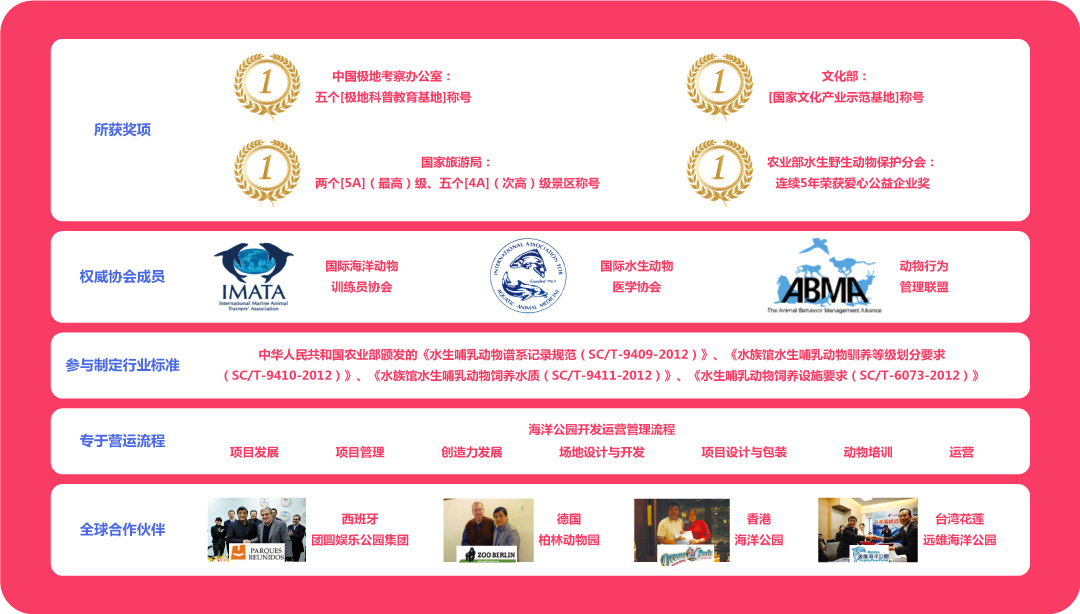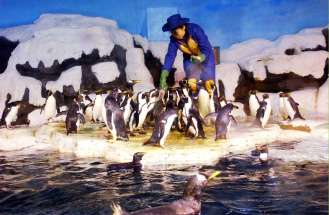 We have established an animal rescue & treatment center and set up an animal rescue & treatment team to take an active part in animal rescue and treatment cross the country by cooperating with national, provincial and municipal governments and institutions. Our goal is to bring animals we rescued back to health and be able to return to the wild. For a few animals that cannot be banished to the wild because of physical weakness, we promise to offer life-long care for these animals.
Our rescue & treatment team is composed of a great number of animal care and medical experts who are on call 24 hours a day. These experts assist the rescue and treatment work of sick, abandoned and injured wildlife by providing professional technical guidance and hands-on practical experience. We have rescued and survived nearly 10 species of about 100 marine creatures, including spotted seals, finless porpoises and sea turtles. In 2008, we released more than 10 spotted seals that we rescued and survived to the wild. By implanting chips in wild-released spotted seals and applying global positioning system, we carried out study on spotted seal migration routes and habitats, which offers important reference for wild spotted seal conservation activities and provides a strong support for maintaining the population number of spotted seals. We will share our experience in marine creature rescue, artificial breeding and reproduction with domestic and foreign animal conservation agencies , and offer technical support for free, thus setting up a good image on marine creature protection efforts both at home and aboard.
Public welfare activities in other areas of animal protection
In 2016, we provided technical support for the reproduction of pregnant finless porpoises in Swan Island Yangtze River Finless Porpoise Reserve in Hubei Province. So far, the little finless porpoises are in good condition.
In 2016, we cooperated with national and local authorities to launch Smile Angel Homeland Return Plans, allowing rescued finless porpoises may back to their homeland;
In 2016, we were engaged in saving national treasure Chinese sturgeon and making joint efforts to promote Yangtze River protection- Yangtze estuary valuable and rare aquatic creatures value added and releasing activity hosted by Ministry of Agriculture and Shanghai municipal government.
In 2017, we took part in the implementation of Yangtze River finless porpoise study and ex-situ conservation.
Since 2012, we have sponsored China Aquatic Wildlife Conservation Society Branch and launched Aquatic wildlife conservation award selection activity nationwide, and commended nearly 200 charity activists who have made outstanding contributions in the field of aquatic wildlife conservation for 5 consecutive years. By popularizing and commending advanced figures and outstanding deeds in aquatic wildlife conservation efforts, we aim to create a sound environment that everyone of the society care about aquatic wildlife and waters ecological environment.